Both parties collaborate comprehensively in providing port warehouse operation and logistics services, effectively serving the activities of businesses and foreign investors.
Tan Cang Cai Mep Joint Stock Company (under Saigon Newport Corporation) has recently signed a memorandum of understanding for cooperation with KCTC Vietnam Company (South Korea), aiming to become comprehensive partners in providing port warehouse operation and logistics services.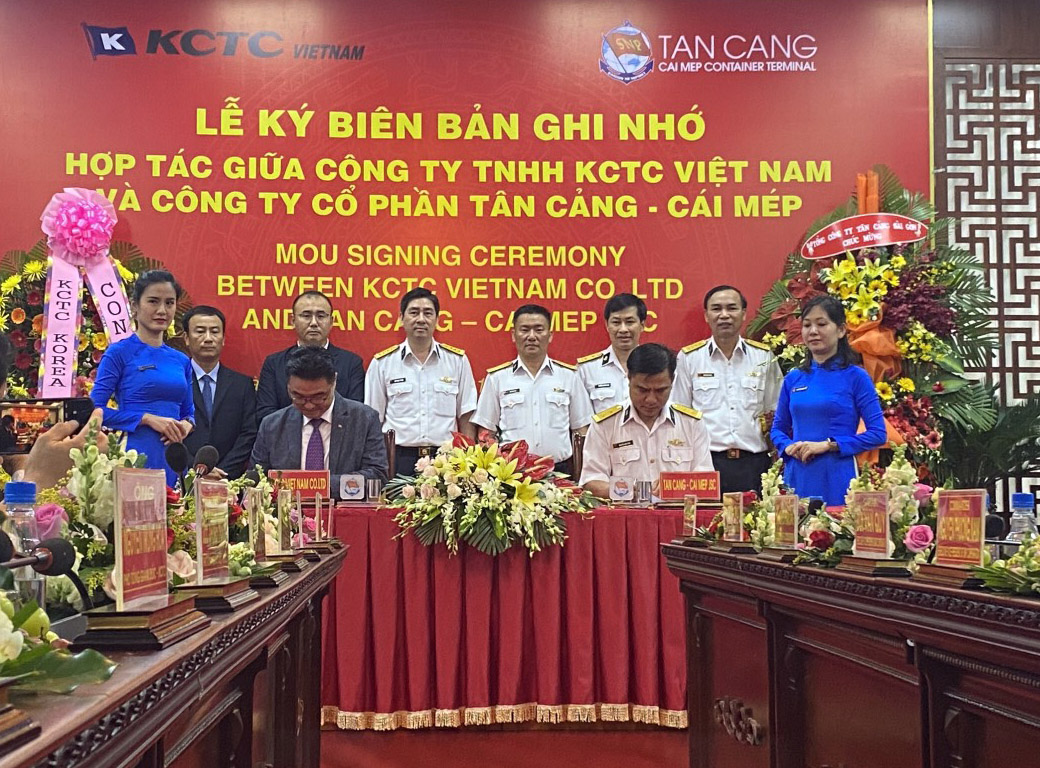 Mr. Park Hyun Bae, General Director of KCTC Vietnam Company, stated that the company, established in 2008, has 49% Korean investment capital. It is headquartered in Ho Chi Minh City and has 7 branches in various provinces and cities in Vietnam. The company engages in multimodal transport business, cargo handling, warehouse services, logistics consulting, and cargo storage.
"With many years of experience in the logistics industry, we are confident that we will provide the best possible logistics solutions to meet the needs of customers in the East-Northeast-North Asia region," Mr. Park Hyun Bae said.
Meanwhile, Tan Cang Cai Mep Joint Stock Company was established in 2007, and its port, which started operation in June 2009, is the first deep-sea port in Vietnam capable of receiving vessels with a deadweight tonnage of up to 160,000 DWT.
Colonel Ngo Minh Thuan, General Director of Saigon Newport Corporation, stated that over the past 11 years of construction and development, Tan Cang – Cai Mep Port has continuously expanded its investment, upgraded infrastructure, expanded warehouse business services, and logistics services while ensuring the quality of services.
Recently, Tan Cang Cai Mep Company has collaborated with KCTC Vietnam Company to successfully handle oversized and overweight cargo (OOG) shipments arriving at ports in the Cai Mep area, opening up a promising new direction to efficiently serve the operations of foreign-invested factories and businesses in Vietnam.
This comprehensive cooperation is geared towards organizing the implementation of service products, investment projects (loading and unloading of general cargo ships, equipment ships, container transportation services, general cargo, oversized and overweight cargo transportation, etc.) of KCTC Vietnam Company in the Cai Mep Port cluster area. The aim of this project is to become an extended warehouse/storage facility of Tan Cang Cai Mep Port for the convenient management, cargo operation, and service to the common customers of both parties.
The cooperation aims to provide and utilize service products in areas of mutual interest, maximizing the competitive advantages and strengths of KCTC Vietnam Company and Tan Cang Cai Mep, leveraging development for both companies, and meeting the trends of international economic development and integration.
Source: https://baodautu.vn/doanh-nghiep-han-quoc-hop-tac-phat-trien-logistics-voi-tan-cang-cai-mep-d130600.html